The « Jardin des plantes »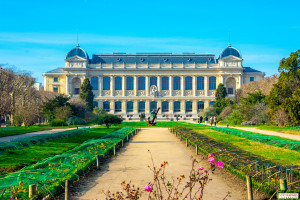 This green area spreads itself up to 24 hectares. You will be able to see an amazing botanical garden, a small zoo, science exhibitions including the Gallery of Evolution and the Paleontology Gallery of the Historical Museum.
The Saint-étienne-du-mont Church.
Built in the XVIth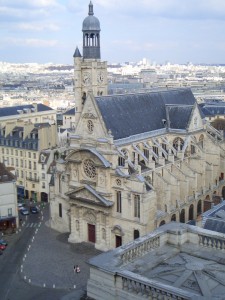 century, the church characterizes itself by a particular architecture (between the Gothic architecture and the Renaissance). It is famous for its two organs and the tomb of Sainte Geneviève, which gave her name to the mountain on which stands the Church. Huysmans used to describe the Church as the prettiest of Paris in his « En route » work (1895).
Mouffetard Street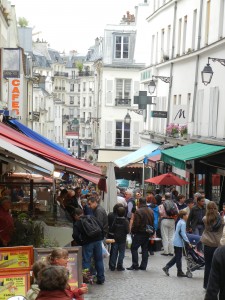 Mouffetard Street is one of Paris's oldest and liveliest neighborhoods. These days the area has many restaurants, shops, and cafés, and a regular open market. The Mouffetard street runs along a flank of the mont Sainte-Geneviève hill that was called "mont Cétarius" or "mont Cetardus" from Roman times; many historians consider "Mouffetard" to be a derivation of this early name. It is closed to normal motor traffic much of the week, and is predominantly a pedestrian avenue.
Gobelins Manufactory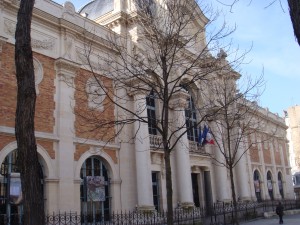 The Manufacture des Gobelins is a tapestry factory located, at 42 avenue des Gobelins, near the Gobelins metro station. It was best known as a royal factory supplying the court of Louis XIV and later monarchs; it is now run by the French Ministry of Culture, and open for guided tours several afternoons per week by appointment as well as for casual visits every day except Mondays and some specific holidays.
Catacombs of Paris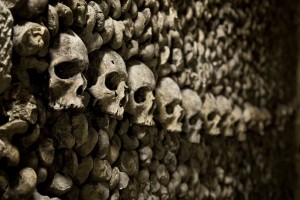 The Catacombs of Paris are underground ossuaries. Located south of the former city gate, the ossuaries hold the remains of about six million people and fill a renovated section of caverns and tunnels that are the remains of historical stone mines, giving it its reputation as "The World's Largest Grave". Opened in the late 18th century, the underground cemetery became a tourist attraction on a small scale from the early 19th century, and has been open to the public on a regular basis from 1874. This unique site invites people in a voyage out of time.